The Yazidi Genocide: Will the International Community Ever Take Action?
Jasmina Young, Sep 16, 2021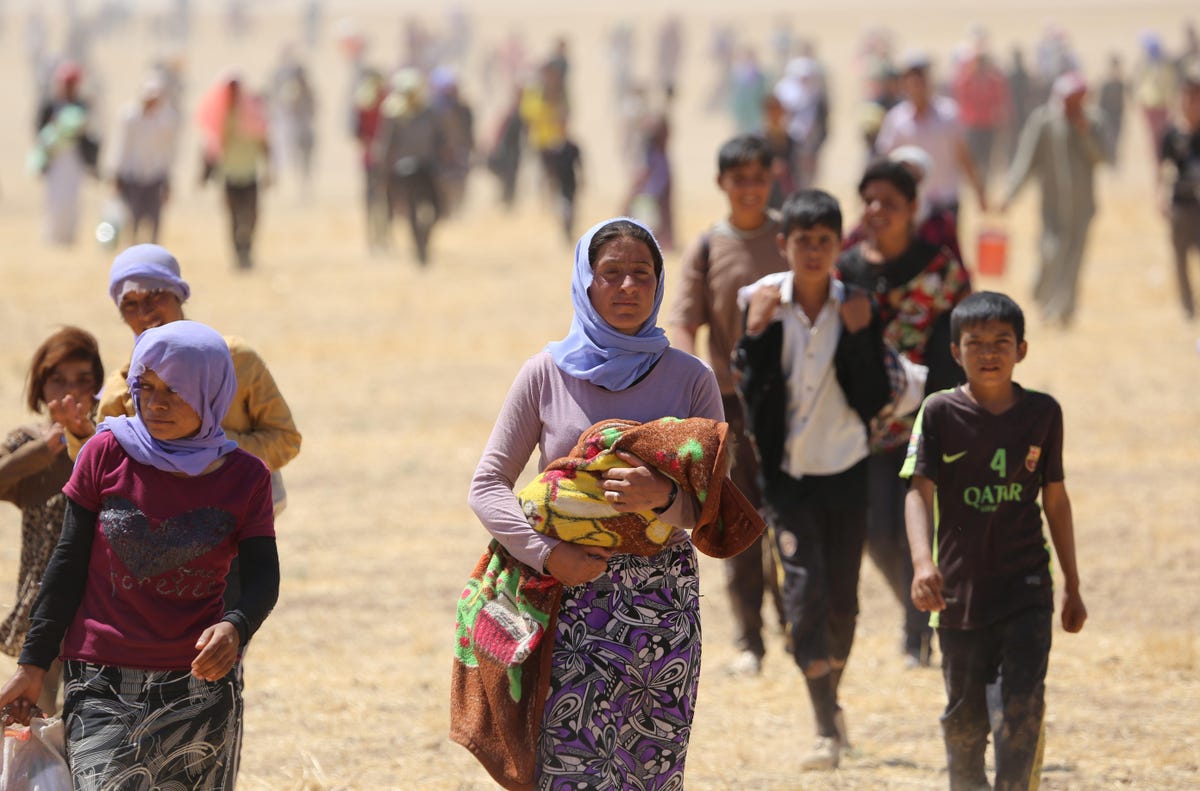 Introduction
On August 3rd, 2014, 200,000 Yazidis clamor over rocks to escape a genocide beginning at the base of a mountain. Within days, this ethnoreligious minority group will be nonexistent from the villages they have occupied for generations. International headlines will momentarily spotlight these atrocities before expectedly switching gears to resume discussions of domestic affairs. Though the attacks and headlines lasted only several days, the homicide continues and must now face resolve.
Background
Three months before, in June 2014, the Islamic State seized Mosul, a Northern Iraqi city they soon declared the capital of the extremist organization. Not only did the seizure contribute to the growing power of the nonstate group, but it was a geographic strategy that placed them within reach of Sinjar, a northern region of Iraq. For centuries, Sinjar was home to most of the world's Yazidi population, an ethnoreligious minority group. Considered "devil worshippers" by Islamic extremists, Yazidi communities refused to convert to Islam and thus became prime targets for ethnic cleansing.
In early August 2014, hundreds of ISIS fighters surrounded Sinjar's farming villages. Since Sinjar occupies a portion of the autonomous Kurdish territory within Iraq, Kurdistan largely reserves military jurisdiction over the region. However, when ISIS swept across Sinjar, the Kurdish' peshmerga forces were quick to retreat, leaving the Yazidi farmlands vulnerable to extended attacks. Within minutes, ISIS fighters executed nearly all men in the villages. Men young enough were deemed 'impressionable' and seized as child soldiers for the Islamic State. Thousands of women and children were taken as sex slaves and endured horrific violations. To escape the attacks, 200,000 remaining Yazidis fled to nearby Mount Sinjar and spent days making their way through the mountains. Due to severe weather conditions and little food and water, nearly 10,000 Yazidis were dead within days. 
Immediate Response
Despite Kurdistan's immediate proprietorship of Sinjar, debate remains concerning neighboring Baghdad's right to the region. This jurisdictional uncertainty caused local authorities to hesitate in deterring the initial attacks, and political guerilla forces were the first to respond. The Kurdistan Workers' Party (PKK) and Northern Syria's Democratic Union Party (PYD) quickly deployed guerrilla units to defend against ISIS and encourage a safe passage for the Yazidi survivors to escape to Mount Sinjar.
Following their escape to the mountains, hundreds of thousands of Yazidis became stuck without water and electricity. Gradually, international support came in the form of food and supplies airlifted to the stranded communities. However, Western aid was minimal and short-lived. Seven years later, thousands of Yazidis remain on the mountain lacking the emotional and financial support for relocation. Continuing to live off the remains of supply boxes delivered in 2014, the developing world largely forgets the Yazidis. 
Leading by example, however, Germany became the largest home to the diasporic minority. Following the attacks, the southwestern German state of Baden-Wurttemberg established a visa agreement for Yazidi women and children whom ISIS freed. This agreement soon transitioned into a robust program encompassing medical, emotional, and social support for survivors. The German state continues to raise international awareness to relocate the displaced survivors and rescue the estimated 3,200 Yazidi women and children remaining in ISIS captivity. 
Adjacent Middle Eastern countries continue to receive the most Yazidi refugees, with 300,000 individuals living throughout only twenty refugee camps in Kurdistan. Thousands more live in Syria, Turkey, and Greece, while others have made their way in small numbers to western Europe.
Contemporary Consequences
Despite the immediate devastation of the attacks, several significant issues still impact the Yazidi diaspora. When ISIS was expelled from southeastern Syria in 2019, Yazidi girls and women held captive in the region were freed and guided to safehouses. Despite their liberation, these survivors face innumerable obstacles to normalcy. Of the thousands of women raped, many became pregnant. Yet, due to organizational discrepancies and the Islamic State's distaste for religious pluralism, most women were separated from their infants. The first unifications between mothers and children just recently began in early 2021. Sadly, due to Yazidi's praxis that disapproves of inter-religious families, survivors must choose between their loved ones in refugee camps or to pursue a new life with their captive-born children, potentially giving up their capacity to ever return home. This decision wreaks emotional havoc on hundreds of Yazidi women.
Within the internally displaced persons (IDP) camps, inadequate mental health support has proven detrimental to the rehabilitation of the Yazidi community.  Although doctors are available at nearby hospitals, immediate access to specialized healthcare is virtually nonexistent.As a result, and while conditions within the camps worsen, a mental health crisis bolsters. In 2020 alone, nearly 250 Yazidi survivors took their lives across the world. These suicides are a testament to the mental health crises that ravage persecuted communities long after their displacement. The international community's responsibility is to bring awareness and support to the thousands of survivors struggling years after the initial attacks.
Beyond the health consequences, the genocide's economic devastation will wreak havoc on the Yazidis for generations to come. During the attacks, Yazidi families quickly fled with no more than the belongings they could wear or carry. Destroying Yazidi towns, businesses, religious centers, and schools, attackers also demolished families' homes along with any financial assets they once owned. Now, most Yazidis cannot even afford the transportation back to their homes, let alone the costs of rebuilding their entire lives. The significant economic consequences of the attacks present roadblocks to future reparations. Rebuilding Yazidi communities will require large contributions from international aid organizations.
Proposed Solutions
Due to the minimal support offered to the Yazidi communities since the attacks, it is necessary to focus the international community on solutions that remedy lingering ills and act as preventative measures to protect Yazidi communities from future persecution.
I. Relocation to Sinjar
International calls to support the Yazidis in returning to their homeland, occupy most of the rhetoric concerning solutions for the displaced people. Due to the Yazidis' nature as a marginalized minority, Sinjar as a central region has been crucial to their survival. Without a homeland, Yazidis are forced into diasporic conditions conducive to the erasure of their culture. Thus, relocation of the Yazidis is fundamental in restoring the communities to their former laurels.
Although Northern Syria provided immediate refuge for Yazidis following their displacement, Turkey's 2019 invasion of the region forced out the survivors and consequently reignited ISIS presence within Sinjar. Paralyzed by the prospect of repeated attacks, Yazidis became reluctant to return home. Even those motivated to return face an absence of the physical labor and economic resources needed to rebuild their destroyed communities. Losing most male figureheads in the genocide and receiving little support from international organizations, the diaspora lacks the necessary resources to relocate back home.
Activist groups call for the international community to take action in supporting Yazidis who wish to return home. Kurdish, Iraqi, American, and United Nations officials have claimed local leadership struggles and security concerns as the reasons behind their lack of support. However, the Yazidis' nature as an ethnoreligious minority likely entitles agencies to view them as a low priority. 
II. International Recognition of Attacks
In 2018, the United Nations established UNITAD, the UN Investigative Team to Promote Accountability for Crimes Committed by Da'esh (ISIS). Following thorough investigations by UNITAD, on May 10, 2021, Karim Khan, head of UNITAD, announced: "I can confirm to the Council that based on our independent criminal investigations, UNITAD has established clear and convincing evidence that genocide was committed by ISIL against the Yazidis as a religious group." He explained that "a full scope of criminality is displayed in the awful criminality of Daesh against the Yazidi community. Executions, slavery, sexual slavery. Crimes against children that are horrific…" With the UN's formal recognition of the targeted genocide, the international body is now able to begin prosecutions against ISIS fighters involved. Although recognition opens the doors to Yazidi restoration, Khan acknowledges that legislation proves fundamental to reform.
Currently lacking legislation to provide for amelioration themselves, the international community looks to Iraq for insight. With aid from the International Organization for Migration, the Iraqi parliament passed the Yazidi [Female] Survivors Law on March 1, 2021.  The law passed to secure federal acknowledgment of the gender-based violence, enslavement, and genocide of the 2014 attacks. The law also provides financial compensation for women and children kidnapped by ISIS, girls subjected to sexual violence, and other survivors of the mass killings. Discerning the new law as a platform of awareness for the international community, the UN Human Rights Council recommended that the international community make strides to support the Iraqi government in their implementation and execution of the law. 
III. Autonomy for Sinjar
Along the lines of supporting Yazidi restitution is the proposal for Sinjar to become an autonomous region. Granting Sinjar authority as a self-governing state within Iraq gives political power to the Yazidis to protect themselves from further marginalization. In addition, assigning Sinjar legal status as either an Iraqi province or temporary autonomy would provide the Yazidi with minority parliamentary representation, increasing awareness and national support for their restitution. Similarly, autonomy provides the Yazidis with legal rights to Sinjar, meaning that a future attack is not only an infringement on the rights of a people but the sovereignty of a state. Despite this solution's context within Iraq's geopolitical discourse, scholars call for international intervention as pressure from external powers increases the chances for Yazidi sovereignty and consequent protection. However, as discussions on Yazidi repatriation are just now beginning, efforts towards regional autonomy are rudimentary in their development. Thus, the international community must place public pressure on the Iraqi government to initiate this solution.
Looking Forward
Seven years after the attacks on the Yazidis, the international community remains largely oblivious to the heinous nature of the genocide and the crises that followed. Despite immediate guerrilla response and refugee reception from neighboring samaritan countries, the international community has stalled efforts to aid the Yazidi community. Relocation of the displaced Yazidis, recognition of the attacks, and possible autonomy would secure power for the minority that desperately needs support. As each solution requires both financial and legislative action, activists call on the international community for aid that Iraq and NGOs cannot provide alone. 
In 2017, the United States only welcomed 445 Yazidi refugees into the country. This is beyond minimal in comparison to the global Yazidi refugee population. Although over 3,000 Yazidis have resettled in the US since 2014, federal initiatives have been directed to reduce immigrant numbers. Although devastating, the US does not stand alone in its inaction. Many wealthy countries fall deeply behind in any efforts expected by the notion of an "international community." By taking direction from Germany's visa program and Kurdistan's attempts at medical care in IDP camps, immense global progress could be made in securing the safety of the Yazidis. If similar initiatives come to pass, a significant precedent will be set in addressing future genocidal crises. 
The crimes committed against the Yazidis were those of genocide and terror, and they must be treated as such. By recognizing the genocide for what it was, institutions can prosecute attackers and protect victims in ways best appropriate for what has occurred. To continue to turn a blind eye to the Yazidis and their suffering is a crime in itself, and the international community should no longer stand guilty.
---
Sources
1. Arraf, Jane, and Ivor Prickett. "Years After a Massacre, Yazidis Finally Bury Their Loved Ones." The New York Times. February 07, 2021. https://www.nytimes.com/2021/02/07/world/middleeast/yazidi-funeral-isis-iraq.html.
2. O'Connor, Francis Patrick. "Endangered Future: Yezidis in Post-Genocide Iraq and the Need for International Support." PRIF BLOG. May 12, 2020. https://blog.prif.org/2020/05/12/endangered-future-yezidis-in-post-genocide-iraq-and-the-need-for-international-support/.
3. "Three Years On, Isis Genocide against Yazidis Continues." The Independent. May 09, 2017. https://www.independent.co.uk/news/world/middle-east/isis-islamic-state-yazidi-sex-slaves-genocide-sinjar-death-toll-number-kidnapped-study-un-lse-children-a7726991.html
4. Arraf, Jane. "Yazidis Remain In Fear On Iraq's Mount Sinjar After Attempted Genocide." NPR. March 29, 2018. https://www.npr.org/sections/parallels/2018/03/29/597616117/yazidis-remain-in-fear-on-iraqs-mount-sinjar-after-attempted-genocide.
5. O'Connor, Francis Patrick. "Endangered Future: Yezidis in Post-Genocide Iraq and the Need for International Support." PRIF BLOG. May 12, 2020. https://blog.prif.org/2020/05/12/endangered-future-yezidis-in-post-genocide-iraq-and-the-need-for-international-support/.
6. Arraf, Jane. "ISIS Forced Them Into Sexual Slavery. Finally, They've Reunited With Their Children." The New York Times. March 12, 2021. https://www.nytimes.com/2021/03/12/world/middleeast/yazidi-isis-slaves-children.html.
7. Vigaud-Walsh, Francisca. "Lest We Forget: Assisting ISIS Survivors in Iraq." Refugees International. September 30, 2019. https://www.refugeesinternational.org/reports/2017/8/8/yazidi.
8. "Suicide a Major Crisis Among Yezidi Survivors of Genocide in Iraq." Center for Global Justice. March 18, 2021. https://globaljustice.regent.edu/2021/03/suicide-a-major-crisis-among-yezidi-survivors-of-genocide-in-iraq/.
9. Arraf, Jane. "With No Options, Displaced Iraqi Yazidis Return To Homes Destroyed In ISIS Fight." NPR. December 03, 2020. https://www.npr.org/2020/12/03/941976085/with-no-options-displaced-iraqi-yazidis-return-to-homes-destroyed-in-isis-fight.
10. "ISIL Crimes against Yazidis Constitute Genocide, UN Investigation Team Finds | | UN News." United Nations. https://news.un.org/en/story/2021/05/1091662.
11. "New Law Offers Redress for Yazidis." Nobel Peace Center. https://www.nobelpeacecenter.org/en/news/new-law-offers-redress-for-yazidis.
12. Ochab, Dr. Ewelina U. "Iraq Adopts New Law To Assist Survivors Of The Daesh Genocide." Forbes. March 12, 2021. https://www.forbes.com/sites/ewelinaochab/2021/03/04/iraq-adopts-new-law-to-assist-survivors-of-the-daesh-genocide/?sh=5effac73156c.
13. O'Connor, Francis Patrick. "Endangered Future: Yezidis in Post-Genocide Iraq and the Need for International Support." PRIF BLOG. May 12, 2020. https://blog.prif.org/2020/05/12/endangered-future-yezidis-in-post-genocide-iraq-and-the-need-for-international-support/.
14. "Breaking down the Stats as the U.S. Plans to Cut Refugee Arrivals to 30,000." International Rescue Committee (IRC). October 08, 2018. https://www.rescue.org/article/breaking-down-stats-us-plans-cut-refugee-arrivals-30000.