Russia's Sham of a Democracy is Crumbling in the Wake of Navalny's Arrest
Hanna Bratsch, Jun 10, 2021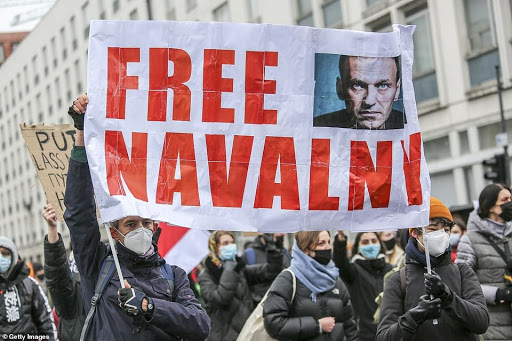 Vladimir Putin's presidency is on the brink of returning Russia to its old totalitarian state given recent events. Alexei Navalny's arrest has shaken up not only Russia but all of the West in fear of Putin's growing autocratic rule. It is no surprise that Russia has been disguising itself as a free, democratic nation for a long time, but recent events suggest an alarming shift towards a dictatorship. With growing intolerance for political opposition, Putin is slowly becoming a relentless dictator with little chance of removal. Freedom in Russia is being critically threatened with the piling numbers of jailed or murdered opposers within the last decade. 
Early Crackdowns on opposition: 
One morning in the fall of 2006, Anna Politkovskaya was found dead from gun wounds in her apartment elevator in Moscow. Anna was a Russian journalist and writer who was well-known for her opposition to the Chechen war and policies. As Putin's height of popularity stemmed from the Chechen war, any opposition to it was an obvious threat. After writing her book, Putin's Russia: Life in a Failing Democracy, which criticized the Putin administration, her death sentence was signed [2]. This attack was personal and had a clear message: any media source that goes against Putin will not be tolerated. Anna Politkovskaya's death marked the beginning of the new authoritarian regime that Putin leads.
In 2009 as the Chechen war dragged on, lawyer Stanislav Markelov represented a Chechen family for human rights violations against the Russian military. Before the case could make it to trial, Markelov was shot in broad daylight in public near the Kremlin. Anastasia Baburova, a journalist, was also shot dead alongside Markelov [1]. The location of this assassination makes obvious that Putin was sending a message to fellow Russian citizens to refrain from working against him. 
As Putin's power became more centralized and legalized, his focus shifted to keeping political actors in check. One of Russia's oligarchs, Boris Berezovsky, became politically ostracized after blaming Putin for the sinking of the Kursk submarine and the 118 sailor deaths due to the Kremlin's refusal to send aid. This and other media attacks led to the tensions between Putin and the oligarch. Conflicts rose so high that Berezovsky stated "I'm being forced to choose whether to become a political prisoner or a political emigrant," which he then took exile in England. After several attempted assassinations beginning in 2003, Berezovsky was finally found dead in his bathroom in England in 2013 disguised as a suicide [4]. Putin would not tolerate powerful men in Russia who proved to be a threat to his power.
The sham of democracy became beyond evident after the murdering of former State Duma official Denis Voronenkov. Joining the Communist party in 2011, he established a foe in Putin. Especially in 2016 when he ran in the legislative election against Putin's United Russia party. After losing and sensing his unwelcomeness in the Duma, he renounced his Russian citizenship, moving to Ukraine. He became an outspoken critic of Putin and garnered anti-Russian support in Ukraine. On March 23 in 2017, Voronenkov was shot dead on the street [1]. Obviously an attack by Putin, the Ukrainian president Petro Poroshenko called the murder "act of state terrorism by Russia."
Election legitimacy has also been highly questionable since Putin's presidency. The Organization for Security and Co-operation has criticized the last presidential election stating that "choice without real competition, as we have seen here, is not real choice" [7]. Since 2012, Putin has restricted numerous freedoms and media reports and has put illegal pressure on voters. In the last few elections, multiple activists who questioned election legitimacy were immediately detained, Navalny included. Having elections is just another veil on an already autocratic system. 
Navalny and protests crackdowns: 
Anyone that has turned on any world news on television this past month has seen the direct political repression of the Putin administration going on in Russia. The anti-corruption blogger Alexei Navalny has accumulated millions of followers on Twitter and YouTube, mostly young twenty-year-olds in which he posts about corruption in the government. He is an outward critique of Putin's party and claims that it is full of "crooks and thieves that are sucking the blood out of Russia" through a "feudal state." Unable to receive access to run for office at the national level, Navalny has successfully got some of his supporters elected to local positions in Siberia [3]. With so much support from Russian citizens, Navalny is a threat to Putin's presidency and control over the nation.
The conflict with Navalny is important to understanding the increasing threat that Putin poses as leader of Russia. Beforehand, the arrests and murders of political opponents to Putin were at least covered up to the best of Russian officials' abilities to look unaffiliated with Putin's reign. Now, Navalny's arrest is a blatant attack on any threat to Putin's power. For the first time in decades, Russian citizens are demanding change and taking to the streets under Navalny's influence. The rise in political participation among Russian society has made Putin desperate in maintaining power and brazen in his measures. Navalny is the face of a rising political party that advocates for change and more freedoms, directly opposing Putin's United Russia party. Putin is sensing a real threat to his party and support with more and more followers flocking to Navalny's social media platforms. By arresting the leader of this popular party, Putin is making a statement that there will never be real competition in government for other parties or politicians. 
Tensions heightened in 2019 when Navalny was arrested for leading unauthorized protests in Moscow during the State Duma elections. He was arrested for ten days and then for thirty more days. In August 2020, Navalny was poisoned sometime on his flight from Omsk to Moscow. Screaming in pain, the pilot landed the plane at the Omsk hospital, where he was then flown to Germany for intensive medical care. In Germany, the doctors declared that Navalny had been poisoned by Novichok nerve agent, which had been used for assassinations in Russia before. 
On his return flight back to Russia on January 27 of this year, Navalny was detained at the airport and held indefinitely. The court then ruled a detention sentence for violating parole for flying out of the country. A makeshift court was set up at the police station in which Navalny was being detained on February 2nd and ruled a three-year prison sentence [3]. This unjust verdict sent thousands of Russian protestors to the streets demanding his immediate release, which wasmet with brutal police force. Many countries in the EU, including the United States publicly condemned this decision as well. On February 16, the European Court of Human Rights called on Russia to release Navalny as his breaking parole was due "to the nature and extent of risk to the applicant's life."
Russia's court refused, and Navalny was moved to Pokrov correctional colony prison, where he has reported being tortured by the prison guards. He also has been denied medical treatment for the loss of nerves in his spine and legs. When six civilian doctors tried to show up at the prison to treat him, they were all arrested. After multiple countries and prominent figures, including U.S. President Joe Biden, asked Russia for proper treatment, the state has continued to deny any mistreatment of prisoners [8]. 
Protestesters have flocked the streets of Russia since and will continue to do until Navalny is released. The world watches too as the veil of democracy is uncovering in Russia. Russia is currently at a pivotal moment in history. Political opposers being jailed and even murdered is nothing new in Putin's regime, but this time it is personal to Russians. This time it is so blatant that Putin will take down any outspoken person that criticizes him or his rule without remorse. For the first time since the fall of Communism in 1989, Freedom has been absolutely and unapologetically expunged. No one is safe under Putin's Russia. And what is a democracy without the fundamental freedom of free speech? Along with his crackdown on political opponents, Putin has also increased blackouts in the media. In light of Navalny's rise in popularity, Putin has designated certain forms of media as "foreign agents" that threaten the authority of Russian government. Just recently, a popular Russian news outlet unaffiliated with the government Meduza has been shut down by the Putin administration [5]. Until Putin is checked, which is unlikely, Russia is heading further towards the totalitarian state that came crumbling down in the 1980s. Instead of Communism, Putin is the state. How much longer will it take to make Putin an ultimate dictator? With the case of Navalny, it seems as though that future fear is becoming a present reality.  
Is there something that the United States and NATO countries can do to restrict Putin's unyielding power? The U.S. and Germany specifically might have some leverage on Russia with the Nord Stream 2 pipeline project. The project will allow natural gas in Russia to flow to Germany underneath the Baltic Sea. The controversial pipeline has been a heated debate for a few years, but now it can be used for political purposes. 
Initially, U.S. president Joe Biden and his administration opposed the project with bipartisan support in Congress. However, the U.S. and Germany have recently begun negotiations to allow the pipeline to continue agreeing for Germany's power to shut off the gas flow if Russia acts up, including Biden's removal of sanctions on the company and its CEO. In January of 2021, German chancellor Angela Merkel shut off the project when Navalny was arrested. They have since resumed construction, but critics are louder than ever within Germany and the United States [6]. 
It is now in the hands of Germany to either condone the behavior of Putin with his recent actions regarding Navalny or to establish political consequences. The U.S. puts pressure on Germany to either halt construction or to use the threat of ending the project to threaten Putin to release Navalny. If the U.S. imposes consequences for the relations between them and Germany, the U.S. might have enough leverage to encourage the release of Navalny. It is up to Germany, though, to use this project as a way to limit Putin's dictatorship-like actions and help Russia against totalitarianism. The Nord Stream 2 Pipeline is the perfect opportunity for the West to help limit Putin's power and save Navalny. If the U.S. and Germany and potentially other NATO countries can successfully coerce Putin into releasing Navalny by using the pipeline project as blackmail, Putin might be forced to rein in his extreme repressive tactics.
---
Sources
1. Filipov, David. "Here Are 10 Critics of Vladimir Putin Who Died Violently or in Suspicious Ways." The Washington Post, WP Company, 18 Apr. 2019, www.washingtonpost.com/news/worldviews/wp/2017/03/23/here-are-ten-critics-of-vladimir-putin-who-died-violently-or-in-suspicious-ways/.
2. Gershman, Carl. "Remembering a Journalist Who Was Killed for Standing up to Putin." The Washington Post, WP Company, 6 Oct. 2016, www.washingtonpost.com/opinions/remembering-a-journalist-who-was-killed-for-standing-up-to-putin/2016/10/06/d3a9e176-8bf7-11e6-bff0-d53f592f176e_story.html.
3. Goodman , Michael, et al. "Alexei Navalny Poisoning: What Theatrical Assassination Attempts Reveal about Vladimir Putin's Grip on Power in Russia." The Conversation, 8 Mar. 2021, theconversation.com/alexei-navalny-poisoning-what-theatrical-assassination-attempts-reveal-about-vladimir-putins-grip-on-power-in-russia-145664.
4. Harding, Luke. "Boris Berezovsky: a Tale of Revenge, Betrayal and Feuds with Putin." The Guardian, Guardian News and Media, 23 Mar. 2013, www.theguardian.com/world/2013/mar/23/boris-berezovsky-vladimir-putin-feud.
5. Kovalev, Alexey. "With Putin's Latest Crackdown, Russia Is Going Dark." Foreign Policy, 6 May 2021, foreignpolicy.com/2021/05/06/russia-media-meduza-crackdown-opposition-protest-putin-navalny-foreign-agent-law/.
6. "Nord Stream 2: Biden Waives US Sanctions on Russian Pipeline." BBC News, BBC, 20 May 2021, www.bbc.com/news/world-us-canada-57180674.
7. Reuters Staff. "OSCE Says Russian Presidential Election Lacked Real Choice." Reuters, Thomson Reuters, 19 Mar. 2018, www.reuters.com/article/us-russia-election-osce/osce-says-russian-presidential-election-lacked-real-choice-idUSKBN1GV1JN.
8. Rfe/rl. "World Reacts To Navalny Jailing With Condemnation, Concern." RadioFreeEurope/RadioLiberty, World Reacts To Navalny Jailing With Condemnation, Concern, 3 Feb. 2021, www.rferl.org/a/world-reacts-to-russian-court-reversal-of-navalny-sentence/31082850.html.