Protecting Democracy from the Ground Up: A Plea for Voting in Local and State Elections
Hannah Kinsey, May 2, 2023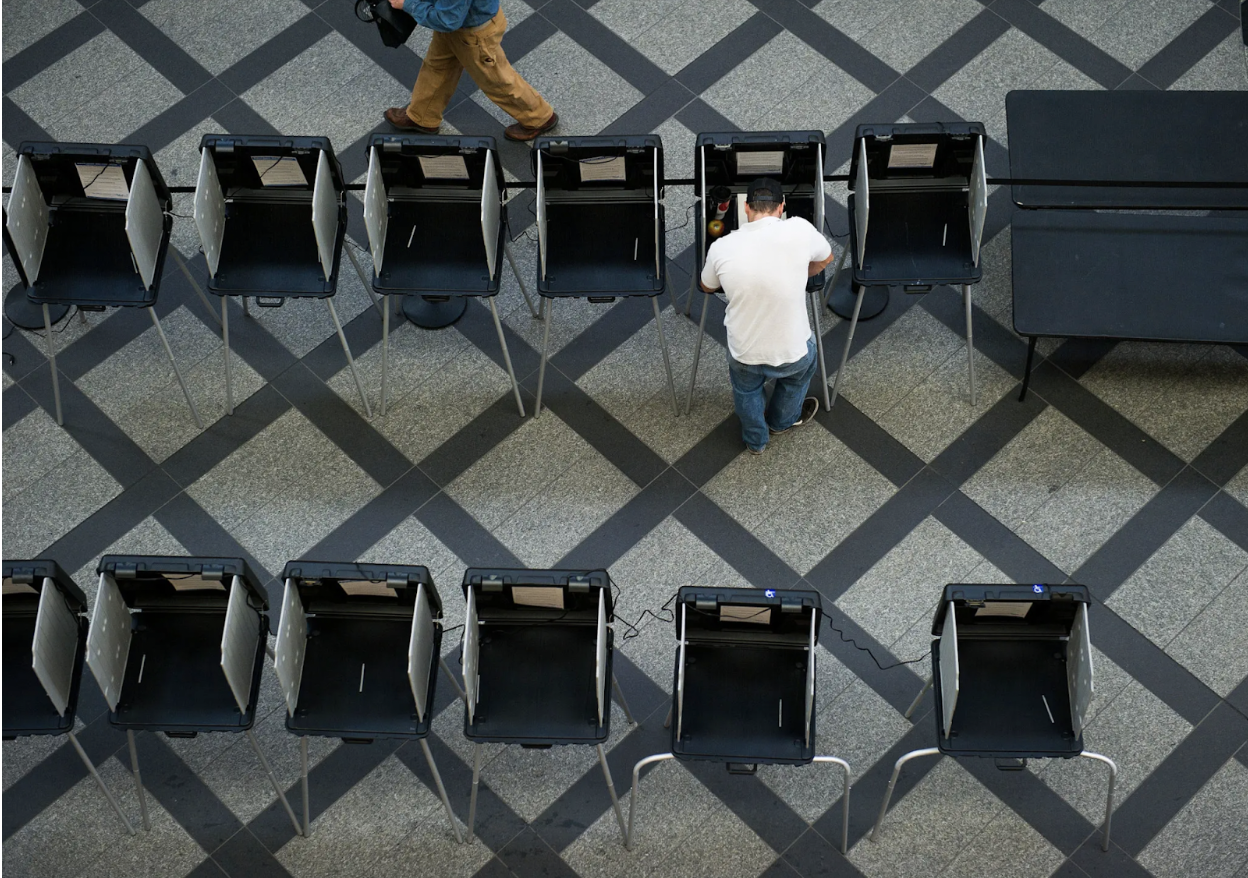 One afternoon in the fall of 1842, a farmhand in DeKalb County, Indiana, suddenly remembered his promise to an Indiana State Legislature candidate named Madison Marsh. The farmhand, Henry Shoemaker, had assured Marsh that he would vote for him in the upcoming election for a seat in the state house. On the afternoon of election day, staying true to his word, Shoemaker mounted a horse and rode 12 miles from his farm to the nearest polling place. Shoemaker's vote ended up breaking a tie and cementing Marsh's win in the Indiana House of Representatives. What happened next requires some context. In the 19th century, U.S. senators were not elected directly, rather, they were elected by the legislators from their respective states. This meant that in 1843 when the race for U.S. Senator from Indiana resulted in a draw, Representative Marsh would be the one to cast the tie-breaking vote. As it turned out, the man Marsh elevated to the Senate, Edward Hannegan, would four years later cast the deciding vote in favor of the United States declaring war on Mexico. Ever since, the tale of the indirect yet powerful role Henry Shoemaker played in initiating one of the United States' most pivotal armed conflicts has been cited as evidence that, in a democracy, every vote matters – and one vote can change everything [1].
Admittedly, the country looks much different now. Constituents directly choose United States senators, meaning that the effects of broken ties between state legislators are largely cut off at the state level (and would not, say, end up being responsible for a national declaration of war). That said, close elections at the state level still take place somewhat frequently and are even determined by such arbitrary measures as pulling a name out of a bowl, as happened in a Virginia House of Delegates race in 2017 [2]. Although 181 years have passed since Henry Shoemaker voted for Madison Marsh, and now, on average, the chances of an American voter casting a tie-breaking vote are slim, the fundamental principle of the story rings true: voting, especially at the local level, has meaningful implications [3]. However, today very few Americans choose to vote in local and state elections.
While presidential elections tend to take center stage for voters and the media, the power that presidents wield often affects our daily lives much less tangibly than the power held by our local representatives. For starters, many fail to recognize that local elections determine actual local responses to issues that generally consume prime-time airwaves and are hotly debated in popular discourse. For example, voting for local school boards determines who is in charge of budgets at our high schools, what books our children read, whether classrooms have mask mandates, and what history is taught in the curriculum [4; 5]. This year, school boards in New York will have to decide how to incorporate Black Studies into the curricula, while boards in Florida will determine whether "woke" books may remain in classrooms [6; 7]. Other "low level" elections carry similar significant weight. The sheriff in a particular area may choose how well —or poorly— to run local jails, determine cooperation with ICE, and establish how his or her deputies engage with the local community. Local sheriffs are responsible for 85% of local jails and often face little oversight [7]. As a result, it is usually not until after counties take note of disproportionate suicides and other deaths in specific jails do they realize that particular sheriffs have neglected to follow necessary procedures or provide proper care to inmates as outlined by the state [7; 8; 9; 10]. In many areas, city planning commissions are chosen by election as well. These groups recommend zoning boundaries and regulations to city councils (which, of course, are also elected) and may dictate the development of affordable housing, greenspaces, and the legacy of historic redlining and housing segregation [11]. Despite how much these issues clearly matter, voters often associate them purely with national policymaking and fail to see what's right before their eyes.
At this moment, events such as the ruling in Dobbs v. Jackson Women's Health Organization are making clear the importance of state power as a bulwark against a seemingly fickle and increasingly more partisan federal judiciary. In January, South Carolina's State Supreme Court overturned the state's post-Dobbs abortion ban, ruling that abortion is included in the right to privacy written into the state's constitution [12]. Pro-choice advocates are now focusing efforts to amend state constitutions to include specific rights to abortion [12]. Compared to the US Constitution, state constitutions enumerate more rights, are more frequently revised, and can be changed through ballot measures proposed by citizens or legislatures [12]. At the state level, however, consolidation of power for a single political party is far more likely to occur. The 2022 midterm elections resulted in 39 state trifectas, or governments in which the governorship and all state legislative chambers are controlled by the same party- the highest number since 1992. More than 80% of Americans are living in such states [13]. A consistently higher proportion of state trifectas means that unchecked state governments are more likely to implement highly partisan policies. The result? The United States could resemble a patchwork quilt of laws varying widely from state to state. The problem is that such laws may reflect less and less the desires of those states' constituencies. State trifectas allow this to happen because single political parties go largely unchecked. While this is a natural byproduct of democracy, it does mean that the officials we elect to our state governments will brandish more power as the number of trifectas continues to grow. Low voter turnout in local elections will continue to create such situations in which lower-level governments may exploit their power as they legislate unrestrained.
Voting is now easier to do than ever. Ballots are clearer to understand and less complicated to use. Voting locations are more ubiquitous and ballots are offered in more languages than before. Thanks to initiatives largely facilitated by the internet, official information about voting dates, deadlines, hours, and locations is more accessible. Despite such improvements and the fact that 85% of eligible Americans are registered to vote, millions choose not to [14]. In California, only 41.47% of eligible voters voted in state general elections in 2022 [15]. In Los Angeles County, that number fell to 36.90% [16]. The numbers for municipal elections are even more dismal. Across the country, less than 15% of eligible voters participate in those elections. Other elections, such as those for school boards, see approximately 5-10% participation nationally [17]. As a result, an extremely unrepresentative set of people nearly exclusively determine the outcomes of local and state elections. For example, the average voter in LA County this past November was older, whiter, and wealthier than the average Angeleno. They were more likely to live in Beverly Hills, Westwood, and Culver City [18]. Most underrepresented, in Los Angeles and throughout the country as a whole, were Latino and Black voters [19].
An even more alarming trend exists among youth voters. Despite a growing surge in social media-driven youth activism, Millennials and Gen Z ostensibly fail to actualize their entire political power. A growing proportion of the younger electorate is abstaining from voting - as compared to 2018, four percent fewer citizens aged 18-29 voted in 2022 [20]. Millennials indicate they are less likely to see voting as a duty and less likely to vote in general than their older Gen X counterparts [21]. Despite having growing electoral influence, young voters are choosing to become single-issue or single-politician voters [22]. Even then, politicians who are considered to be among the youth's favorites, such as Bernie Sanders, have still suffered from a lack of youth turnout come election day [23]. While Millennials and Gen Z cite years of political dysfunction as responsible for their lack of trust in the system, they seem uninterested in changing such a system via voting.
Ironically, one of the most revolutionary activities we can participate in is also one of the least glamorous. But we mustn't let the mundane task of researching local politicians and going to the polls deter us, as any power left on the table will be claimed by someone else. It is also important to note that voting can indeed coexist with a revolutionary agenda. Gen Z is famous for glorifying its disillusionment with the government, decrying the ills of capitalism, and often promoting various anarchic, socialist, and environmentalist platforms [24; 25]. Many openly admit that such views of the world, and a disdain for politics, makes voting seem futile. However, the beauty of voting is that it does not preclude one from working towards their broader vision in the meantime. Yes, there is certainly work to be done to make voting more accessible, such as improving when elections are held and providing better quality information about candidates [26; 27]. And yes, choosing between candidates can often feel like choosing between two poor choices. But the fifteen minutes it may take to learn about candidates for school board, mayor, or state house are worth it to ensure we make educated decisions for the betterment of our communities. And unlike Mr. Shoemaker, you don't need to get on your horse to do it.
---
Sources
[1] New, Harry S. "The Importance of a Single Vote." Indiana Magazine of History 31, no. 2 (1935): 104–8. http://www.jstor.org/stable/27786724.
[2] Montanaro, Domenico. "Why Every Vote Matters - the Elections Decided by a Single Vote (or a Little More)." NPR. NPR, November 3, 2018.
[3] Gelman, Andrew, Nate Silver, and Aaron Edlin. "What Is the Probability Your Vote Will Make a Difference?" Economic Inquiry 50, no. 2 (2010): 321–26. https://doi.org/10.1111/j.1465-7295.2010.00272.x.
[4] "Your Guide to Local Elections: Major Elected Positions in State and Local Government." The Thurgood Marshall Institute at LDF, September 12, 2022. https://tminstituteldf.org/local-elections/.
[5] Dimitrov, Mary. "Beaufort County SC Schools to Review 10 More Banned Books." The Island Packet. Accessed March 10, 2023. https://www.islandpacket.com/news/local/education/article271692052.html.
[6] Closson, Troy. "As Some States Restrict Black Studies, New York City Expands It." The New York Times. The New York Times, March 8, 2023.
[7] Bethea, Charles. "Why Some Florida Schools Are Removing Books from Their Libraries." The New Yorker, February 7, 2023. https://www.newyorker.com/news/letter-from-the-south/why-some-florida-schools-are-removing-books-from-their-libraries.
[8] Liebelson, Dana, and Ryan Reilly. "Hundreds of Jail Deaths after Sandra Bland's Could Have Been Prevented." The Huffington Post. TheHuffingtonPost.com, July 13, 2016. https://highline.huffingtonpost.com/articles/en/sandra-bland-jail-deaths/.
[9] Jones, Ross. "19 Inmates Have Died in Macomb Co. Jail since 2012; Sheriff Says 'We Do Our Best'." WXYZ 7 Action News Detroit. WXYZ 7 Action News Detroit, September 27, 2018. https://www.wxyz.com/news/local-news/investigations/19-inmates-have-died-in-macomb-co-jail-since-2012-sheriff-says-we-do-our-best-.
[10] Beilein, Thomas, Thomas Loughren, and Allen Riley. "Problematic Jails Report 2 2018." Scribd. Scribd, February 2018. https://www.scribd.com/document/395770899/Problematic-Jails-Report-2-2018-1#.
[11] "Your Guide to Local Elections: Major Elected Positions in State and Local Government." The Thurgood Marshall Institute at LDF, September 12, 2022. https://tminstituteldf.org/local-elections/.
[12] Zernike, Kate. "South Carolina Constitution Includes Abortion Right, State Supreme Court Rules." The New York Times. The New York Times, January 5, 2023. https://www.nytimes.com/2023/01/05/us/south-carolina-abortion-supreme-court.html.
[13] Paredes, Juan Garcia de. "More than 80% of Americans Live in Trifecta States." Ballotpedia News, January 12, 2023. https://news.ballotpedia.org/2023/01/12/more-than-80-of-americans-live-in-trifecta-states/.
[14] Voter Registration." Voter registration | MIT Election Lab. Accessed March 9, 2023. https://electionlab.mit.edu/research/voter-registration.
[15] "Historical Voter Registration and Participation in Statewide General ..." Accessed March 10, 2023. https://elections.cdn.sos.ca.gov/sov/2022-general/sov/04-historical-voter-reg-general.pdf.
[16] "November 8, 2022, General Election Voter Participation Statistics by County." Accessed March 10, 2023. https://elections.cdn.sos.ca.gov/sov/2022-general/sov/03-voter-participation-stats-by-county.pdf.
[17] Devine, Kelly. "Visualizing Voter Turnout in Local and School Board Elections: Voting." Carnegie Corporation of New York, November 2, 2022. https://www.carnegie.org/our-work/article/visualizing-voter-turnout-local-school-board-elections/.
[18] "Who Votes for Mayor?: Los Angeles." Who Votes For Mayor? | Los Angeles. Accessed March 9, 2023. http://whovotesformayor.org/cities/57559f54db1eab405dd5f176#maps.
[19] Baldassare, Mark, Dean Bonner, Alyssa Dykman, and Rachel Lawler. "Race and Voting in California." Public Policy Institute of California. Public Policy Institute of California, August 29, 2022. https://www.ppic.org/publication/race-and-voting-in-california/.
[20] Simmons, Dan, and Michael Wines. "Young Voters Helped Democrats. but Experts Differ on Just How Much." The New York Times. The New York Times, November 12, 2022. https://www.nytimes.com/2022/11/12/us/young-voter-turnout-election-democrats.html.
[21] "Millennials across the Rich World Are Failing to Vote." The Economist. The Economist Newspaper, February 4, 2017. https://www.economist.com/international/2017/02/04/millennials-across-the-rich-world-are-failing-to-vote.
[22] Abrams, Samuel. "Democrats Have a Gen Z Problem." Business Insider. Business Insider, January 11, 2023. https://www.businessinsider.com/gen-z-not-loyal-democrats-elections-data-poll-2024-election-2023-1.
[23] Ember, Sydney, and Maggie Astor. "How Huge Voter Turnout Eluded Bernie Sanders on Super Tuesday." The New York Times. The New York Times, March 5, 2020. https://www.nytimes.com/2020/03/04/us/politics/bernie-sanders-young-voter-turnout.html.
[24] Firinci Orman, Turkan. "Youth's Everyday Environmental Citizenship: An Analytical Framework for Studying Interpretive Agency." Childhood 29, no. 4 (2022): 495–511. https://doi.org/10.1177/09075682221107750.
[25] Jones, Owen. "Eat the Rich! Why Millennials and Generation Z Have Turned Their Backs on Capitalism." The Guardian. Guardian News and Media, September 20, 2021. https://www.theguardian.com/politics/2021/sep/20/eat-the-rich-why-millennials-and-generation-z-have-turned-their-backs-on-capitalism.
[26] Hajnal, Zoltan L. "Why Does No One Vote in Local Elections?" The New York Times. The New York Times, October 22, 2018. https://www.nytimes.com/2018/10/22/opinion/why-does-no-one-vote-in-local-elections.html.
[27] Moore, Elena. "Gen Z's Political Power: New Data Gives Insight into America's Youngest Voters." NPR. NPR, February 6, 2023. https://www.npr.org/2023/02/06/1154172568/gen-zs-political-power-new-data-gives-insight-into-americas-youngest-voters.