Navigating Geopolitical Protectionism in the European Union: A Proactive Approach
Brendan McMahon, Apr 17, 2023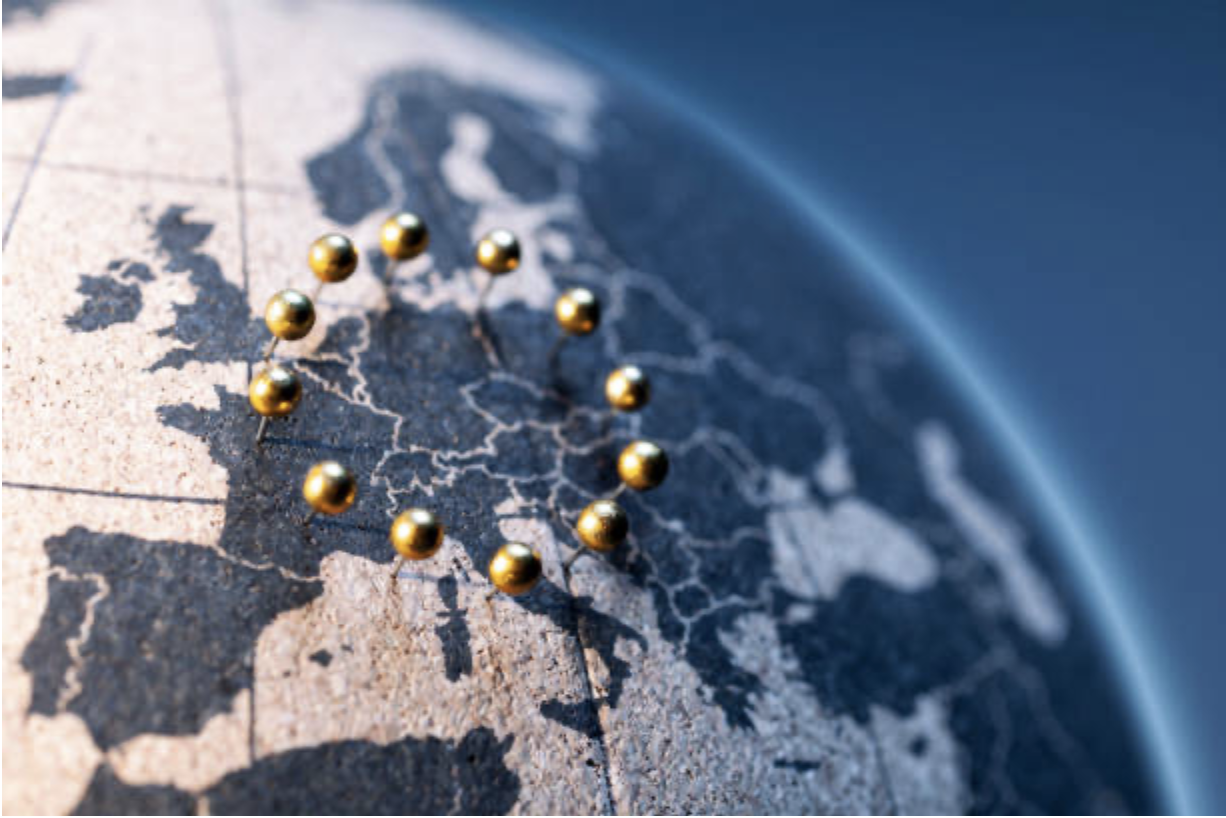 Humanity has come far from the rhetoric of denial and indifference that defined decades of climate inaction. Nations, corporations, and individuals accept the geopolitical colossus that climate change presents. Yet, where environmentalists frame the issue as existential and immediate, world governments thrust domestic priorities into the conversation. On the world stage, issues of national security, industrial capability, and economic prowess are included in the discussion of the planet's future.

On August 14th, 2022 President Biden signed into law the most significant climate package in United States history. The Inflation Reduction Act (IRA) contains nearly $400 billion in federal funding to address the climate crisis and promote the nation's energy security. In theory, the landmark legislation will reduce electricity bills, create thousands of jobs, usher in a new era of clean energy technology, and stimulate domestic manufacturing [1].

Yet, the current administration's major success was met with harsh criticism from prominent countries in the climate fight, namely the member states of the European Union (E.U.). They claim the IRA has put them at a competitive disadvantage in clean energy technology production, threatening disinvestment and deindustrialization in Europe as companies are incentivized to relocate to America in order to receive the legislation's 'Buy America' benefits [2]. While the United States should ensure the IRA's implementation minimizes consequences for their European allies, the E.U. should also treat this as a warning. The E.U. Member states must cooperate to form a stronger fiscal partnership with each other to hold more monetary leverage in providing subsidies and tax credits for clean energy technologies through a common European debt that buttresses their free and single market and mitigates industrial decline throughout Europe. In execution, the E.U. will bolster its own energy security and drive competition with the United States, resulting in technological innovation and increased adoption of sustainable technologies that will have lasting effects in the fight against climate change.
How We Got Here

Many of the Biden administration's legislative wins have included protectionist policies. The Creating Helpful Incentives to Produce Semiconductors (CHIPS) for America Act designates programs to increase domestic semiconductor fabrication capacity and provides assistance in the development of advanced chips, a technology essential for the production of electric vehicles, smartphones, and advanced weapons systems. A significant motivation for the bill was to diversify away from Chinese dependence in the microchip industry [3]. The Build America, Buy America Act (BABA) and the Infrastructure Investment and Jobs Act (IIJA) both increase domestic sourcing and production requirements in federally aided infrastructure projects [4]. Most recently, the 117th Congress passed the IRA to fight climate change and promote domestic industry, but the bill could prevent foreign markets from receiving federal subsidies and tax credits.

A European outcry over American protectionist policies would have, at one time, seemed strange. After all, the United States was once integral in encouraging cooperation and multilateralism in international trade [2], but has since fallen further from that benchmark. This precedent was set in the Trump era but has largely been kept in place by the Biden administration. Under President Trump, the average U.S. tariff on Chinese imports increased from about 3% to almost 20%, and President Biden has made no attempt to ease these measures [5]. The United States has not only violated the principles of the World Trade Organization (WTO) with many discriminatory measures but has also actively weakened the institution. Reversing decades of support for the WTO, Trump refused to replace judges that sat on its Appellate Body, and, once again, Biden has sustained this decision [5]. It is clear that despite President Biden's criticism of Trump's trade policies on the campaign trail, he has largely continued the practices of his predecessor. In fact, The Economist describes Biden's approach as "less like a retreat from Mr. Trump's brawl with China and more like a professionalization of it." [6]

There is no doubt that America's last two administrations have radically transformed the international trade landscape. They have ushered in a new era of industrial policy with an air of protectionism that the rest of the world must now respond to. These emerging precedents are not entirely unfounded through the lens of the environment. As Financial Times columnist Martin Wolf has observed, market features have the capacity to facilitate a clean energy transition, but will not work fast enough to meet the pressing demand of climate change [7]. Because of this, nations prioritize their own energy security to promote technological innovation and domestic adoption of renewable energy projects.

Ursula von der Leyen, President of the European Commission, gave a speech to the College of Europe in Bruges in December of last year evaluating the present situation. She applauded the IRA as a remarkable step towards a sustainable future but underscored the bill as shortsighted to their lasting trans-Atlantic alliance, risking redirection of European investment flows, fragmenting critical supply chains, and starting a subsidies race, all of which are to the detriment of the E.U. However, President von der Leyen pairs her criticism with an optimistic path forward, "We need to look at these issues closely – and at the same time learn what we could also do better." [8] Under America's precedent, Europe is at a critical juncture in deciding its own future in industrial and climate policy. Unfortunately, not all E.U. member states agree on a suitable response to the IRA.
Barriers to European Action

Undeniably, the Ukraine-Russia conflict is the most prominent avenue of stress on the European Union, having significantly increased energy costs, and brought questions to the E.U.'s energy security capacity [9]. This strife, along with the lasting economic effects of the pandemic, has put Europe into a precarious position in determining its way forward. The bloc must find a way to diversify its energy supply away from the Russian aggressors, while also preventing disinvestment and deindustrialization within its own markets. All this, while attempting to remain stalwart in the pursuit of a sustainable future.

Another compounding factor in E.U. coordination is the core nature of its fair and free single market. Any funding measure that is collectively financed has the opportunity to give an unfair advantage to a single member country. Similarly, a lack of action could adversely affect certain countries over others. It becomes a balancing act for the European Union to support a communal interest of maintaining a strong internal partnership while protecting member states with smaller economies. For example, France and Germany together account for 38% of industrial production and 40% of the bloc's GDP. Yet, of the €672 billion euros authorized for use in the wake of the Ukrainian situation, France and Germany received 77% [10]. This has allowed these two industrial heavy-weights to leverage their position, offering aid to firms who face bankruptcy due to soaring electricity prices, and extending tax breaks to prevent industrial relocation abroad. However, these techniques are limited to the E.U. member states with the economic means to do so, threatening the cohesion of Europe's fair and free single market.

The U.S. model falls on two critical axioms: using incentives to drive electrification, rather than disincentives (i.e. carbon tax), and reshoring to revitalize domestic industries. Yet, even if the E.U. wanted to follow its North American ally in lockstep, it would encounter a number of obstacles. The European Union has a significant regulatory capacity within its strong monetary union, but this falls short of the fiscal union operating within the United States [2]. It gives the U.S. a competitive advantage to 'flex their financial muscles' in offering, for example, vast subsidies for domestic EV manufacturing. The E.U. would need to take aggressive action to effectively match the United States. While negotiations have begun, including prominent champions of an E.U. equivalent to the IRA, many barriers remain from making this a European reality.

On February 1, 2023, the European Commission unveiled its Green Deal Industrial Plan, which includes expedited permitting for green production facilities, a repurposing of around €250 billion from the Covid-era Recovery and Resilience Fund (RRF), loosened state-aid rules for nations to offer green-tech subsidy programs, and initiatives to boost skilled labor and international trade agreements to support emerging green industries. In the long term, the Commission hopes to propose a European Sovereignty Fund that would allow for novel joint-borrowing through a common E.U. debt that would prevent smaller member economies from being outspent by stronger member states, like France and Germany [11].

Unsurprisingly, staunch opposition to these measures formed quickly in the wake of the announcement, especially for calls of opening new funding sources. Dutch Prime Minister Mark Rutte is a leader of the so-called "frugal" group of fiscally conservative E.U. member states that are levying criticism against the Commission's expansive plans. Rutte notes the presence of existing funds leftover from the RRF, as well as regulatory adjustments that can streamline investment in European industries [12]. They believe that approving new joint-funding measures is a waste of resources.
European Union Recommendation

Nonetheless, the policies enacted will undoubtedly affect Europe's position as a global competitor, either establishing the E.U. as a dominant force in clean energy technology or leaving the bloc fragmented and forever behind in the emerging industry.

The arguments posed by the E.U.'s "frugal" members contain valid fears of overextending European resources and setting precedents that undermine intra-state sovereignty in financial decisions. As discussed, Europe remains under incredible stress from the aftershocks of the pandemic and the conflict in Ukraine. With each new pressure, more is being asked of the bloc, and members are hesitant to meet each issue with the same ferocity. But the nature of the climate crisis and the industries sprouting from beneath it demands a response, and the E.U. should be more than just reactive. Already, European companies, like Italian energy giant Enel SpA, have announced plans to expand into the United States to receive the new benefits [13].

The single and free market within the E.U. is what allows the collective to compete on a global scale among superpowers like the United States and China. A simple relaxing of state-aid policy and expedited permitting will advantage larger countries that have the economic might to provide aggressive subsidies to prevent deindustrialization within their own borders. Thus, a solution must be formed to protect the smaller economies within the bloc. The appropriation of a joint-borrowing scheme, such as the European Sovereignty Fund, will provide a foundation for the bloc to move as one in the face of climate change.

Europe was once the unequivocal leader in green transition but has since lost that status as other actors have surpassed their impact in environmental policy. The E.U. must be proactive in approving new funding measures that reassure the bloc's dominant position in the climate fight. In President von der Leyen's words, "Competition between Europe and the United States can push both our industries to excel, to innovate, and to transform faster."

The world is on a new frontier and Europe cannot be left behind. The effects of climate change are too numerous and expansive for environmental policy to remain stagnant. European nations must come together and act to enhance competition and prioritize the health of the planet for centuries to come.
---
Sources
[1] Ennis, Jacqueline, and Amanda Levin. 2022. "NRDC Analysis: IRA Will Spur Clean Energy Transition." National Resource Defense Council. October 12, 2022. https://www.nrdc.org/bio/amanda-levin/nrdc-analysis-ira-will-spur-clean-energy-transition.
[2] Bergmann, Max, and Federico Steinberg. 2022. "How to Avoid a Transatlantic Trade War over Climate." Center for Strategic & International Studies. December 15, 2022. https://www.csis.org/analysis/how-avoid-transatlantic-trade-war-over-climate.
‌[3] Arcuri, Gregory. 2022. "The CHIPS for America Act: Why It Is Necessary and What It Does." Center for Strategic & International Studies. January 1, 2022. https://www.csis.org/blogs/perspectives-innovation/chips-america-act-why-it-necessary-and-what-it-does.
[4] Hayashi, Yuka. 2023. "Biden Administration's Big Manufacturing Push Could Transform Global Trade." Wall Street Journal. January 12, 2023. https://www.wsj.com/articles/biden-manufacturing-global-trade-11673382060.
[5] Lemieux, Pierre. 2023. "Biden's Protectionism: Trumpism with a Human Face." Cato. 2023. https://www.cato.org/regulation/fall-2022/bidens-protectionism-trumpism-human-face#polite-trumpism.
[6] "America Rethinks Its Strategy for Taking on China's Economy." 2022. The Economist. July 6, 2022. https://www.economist.com/finance-and-economics/2022/07/06/america-rethinks-its-strategy-for-taking-on-chinas-economy.
[7] Wolf, Martin. 2022. "The Market Can Deliver the Green Transition — Just Not Fast Enough." Financial Times, November 22, 2022. https://www.ft.com/content/33ca0d1b-6173-4ce1-a072-a8d3c0b492be.
[8] Leyen, Ursula von der. 2022. "Check against Delivery." In-Person. December 4. https://ec.europa.eu/commission/presscorner/detail/en/SPEECH_22_7487?utm_source=POLITICO.EU&utm_campaign=9840a3e2f6-EMAIL_CAMPAIGN_2022_12_05_04_44&utm_medium=email&utm_term=0_10959edeb5-9840a3e2f6-%5BLIST_EMAIL_ID%5D.
‌[9] Leyen, Ursula von der. 2022a. "A Union That Stands Strong Together." In-Person. Presented at the State of the Union, September 14. https://ec.europa.eu/commission/presscorner/detail/ov/speech_22_5493.
[10] Liboreiro, Jorge. 2023. "Germany & France Account for Most EU Subsidies. Why Is That a Concern?" Euronews. January 17, 2023. https://www.euronews.com/my-europe/2023/01/17/germany-france-account-for-most-eu-state-aid-heres-why-its-a-concern.
‌[11] Blenkinsop, Philip. 2023. "EU Sets out Green Industry Plan to Counter U.S., China Subsidies." Reuters, February 1, 2023, sec. Sustainable Business. https://www.reuters.com/business/sustainable-business/eu-lay-out-green-industry-plan-counter-us-china-subsidies-2023-02-01/.
‌[12] Barigazzi, Jacopo. 2023. "Dutch PM Rutte Wants EU to Play It Frugal in Face of Mega US Subsidies." POLITICO. January 24, 2023. https://www.politico.eu/article/netherlands-prime-minister-mark-rutte-europe-frugal-us-subsidies-loan-reform/.
[13] Mackrael, Kim. 2023. "WSJ News Exclusive | Europe Tempers Criticism of Biden's Green Subsidies." Wall Street Journal. February 24, 2023. https://www.wsj.com/articles/inflation-reduction-act-frustration-in-europe-eases-as-brussels-considers-countermeasures-bb0d142c?st=n8r2y6yxh3kz68e&reflink=desktopwebshare_permalink.