Jesse Baker Headlines First Bruin Political Review Speaker Series
Bruin Political Review Speaker Series, Nov 22, 2021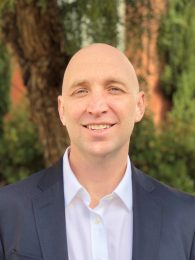 The Bruin Political Review was honoured to host Jesse Baker at our first Bruin Political Review Speaker Series event this Fall.  Jesse Baker is the Special Agent in Charge of the Secret Service Los Angeles Field Office.  During his career, he has worked on the president's protective detail, was a liaison in Congress for law enforcement agencies, and served as the security coordinator for the Rose Bowl and upcoming Super Bowl in LA.  Jesse is in the process of getting his EMBA from the Anderson School of Business.
The members of Bruin Political Review were able to hear a variety of interesting stories about Mr. Baker's career, and learn about his path to the position he has today.  Furthermore, members had the opportunity to ask questions and participate in the discussion.
The Bruin Political Review hopes that continuing these events will further our goal of promoting a politically inclusive campus that supports open dialogue and discourse, learning from those of different backgrounds and allowing students to feel free sharing their own perspectives on political issues.
---
Sources
https://poalac.org/corporate-profile/board-members/jesse-baker/