Are Democrats Making the Same Mistakes? The Similarities Between The Recent Infrastructure Debate and the Formation of the ACA in 2009-10
Shaanth Nanguneri, Dec 11, 2021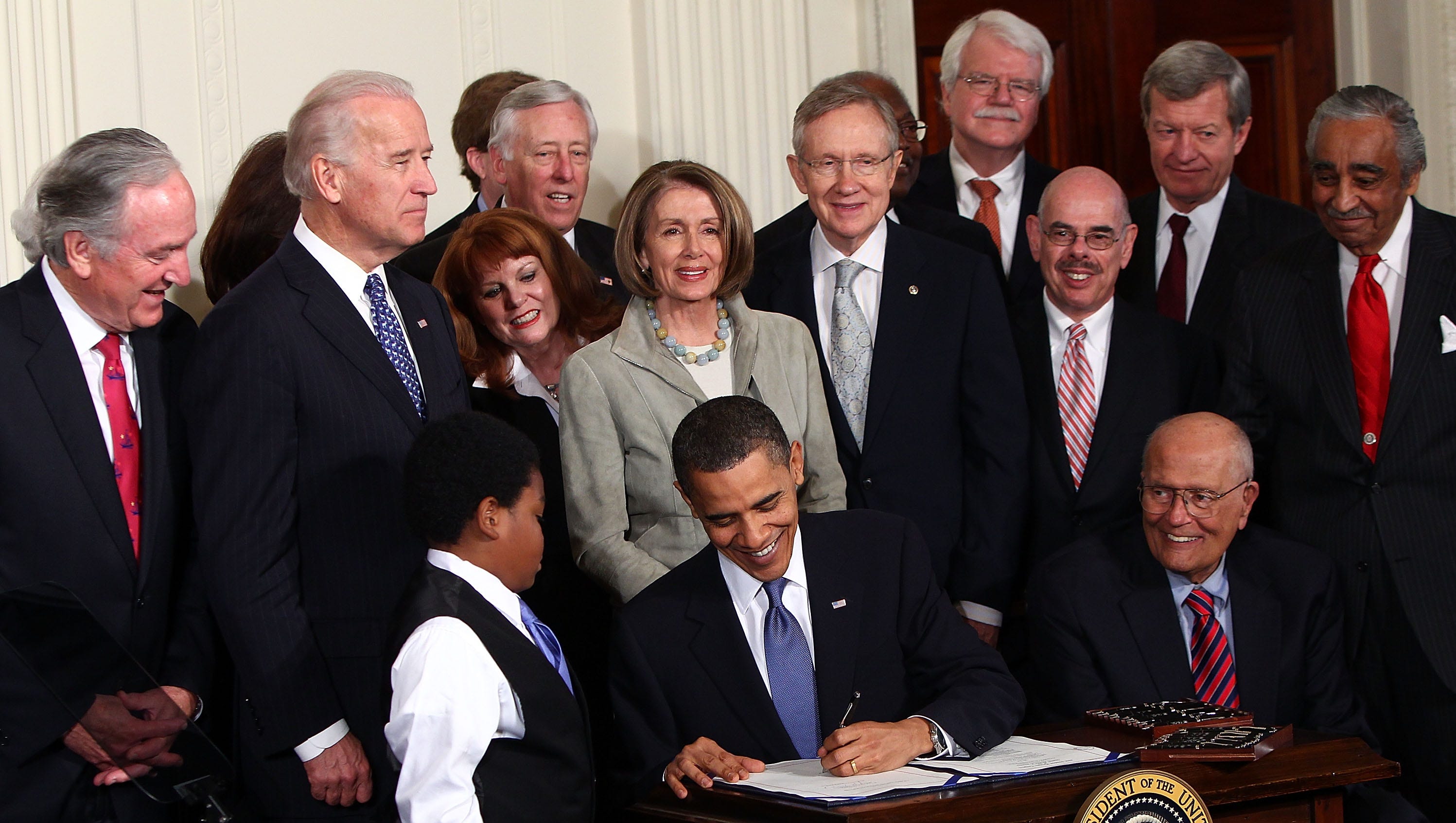 The Congressional stage is set. A historic electoral mandate has won President Barack Obama and the Democratic Party a supermajority of 60 seats in the Senate and a majority in the House with 257 seats. Fresh on the legislative table is healthcare reform, and President Obama insists[1] on the creation of what is now known as Obamacare, or the Patient Protection and Affordable Care Act. The process needs committees, debate, amendments, public hearings, markups, and negotiations.
The Congressional battle of the Affordable Care Act, "ACA",  is all the more relevant today when President Joseph Biden is attempting to create a historic investment in social and physical infrastructure with votes solely from his party. Looking back to the ACA, the issues of this intra-party legislative process that appeared within the 60 seat supermajority[2], and eventually slimmer majority used to finish the ACA[3] still appear to plague elements of the Democratic party today. What are the similarities between the fight for healthcare reform within the Democratic party in 2009 and those of the reconciliation infrastructure passage today in 2021? What are the differences? And what do they tell us about a Democratic party struggling to hold onto its mandate in the age of passing popular, progressive policy?
The final ACA[4], in part, expanded Medicaid, included subsidies to lower healthcare premiums in private and public plans, required many employers to provide their workers with adequate health insurance, protected patients with pre-existing conditions and their right to coverage, required Americans to have a basic amount of health insurance, and allowed children to remain on their parents' healthcare plans until the age of 26. Often known as Obamacare, this legislation was the result of deal-making, intra-party collaborations, and caving to many moderate Democrats' demands.
In early negotiations, Obama attempted to include Republicans for a large-scale consensus on healthcare reform in Washington. Six senators came together to draft a bill that could gain large support on Capitol Hill. The so-called 'gang of six'[5] included senators interested in healthcare from both parties' ideological wings, hoping to draft a plan that could gain upwards of 80 votes from the Senate. Yet the same conservatives in this group who once advocated for reform policies in 1994, when President Clinton attempted healthcare reform, became weary of working with the Democrats[6] and steered away from the same elements they once advocated for.
As bipartisan talks for healthcare measures failed, tensions rose within the Democratic party in their attempts to pass their own healthcare reforms. A lone senator, Joe Liebermann, an Independent from Connecticut caucusing with the Democrats, threatened to vote against[7] the public option in the ACA, despite its popularity[8]. Democrats designed the public option to provide a buy-in alternative to private health insurance and serve as competition for market rate insurance plans[9]. President Obama even ran[10] on the policy, but Liebermann killed it.
President Obama's handling of the public option within the ACA also brought to light his own leadership strategy. There were differing reasons[11] suspected as to why the former President allowed the public option to be dropped. One explanation argues that Obama simply lacked the 60 votes to pass it through regular legislation, but could have passed it with 51 votes in reconciliation with the rest of the ACA, as was done so later on for other parts of the healthcare reform. Regardless of if the President had the votes or not, there is something to be said about leadership at the helm of writing a bill. Obama allowed the public option to be dropped and set the course for the party's willingness to bend to the demands of moderates. Even leadership members like Senator Max Baucus, Democrat of Montana, threw out and arrested activists[12] advocating for single-payer, something many of Obama's electoral organizers demanded.
The House also struggled to coalesce around one healthcare act. Speaker Pelosi faced warring factions of House Democrats[13].The controversy? An amendment supported by the U.S. Conference of Catholic Bishops sharply restricting abortion coverage under the ACA. These controversies also appeared in the Senate, where Senator Ben Nelson only committed to voting for the ACA after gaining tight restrictions to abortion coverage. Social issues illustrated the deeply social ideological divides present within the party attempting to solve the class-based issue of healthcare. 
Now, Democrats attempt to pass an infrastructure reconciliation package with a price tag in the trillions. The original framework, proposed by the White House, had 3.5 trillion dollars allocated for an expansion of Medicare to dental, vision, and hearing, funds for a clean energy program, universal Pre-K, tuition-free community college, paid family and medical leave, and negotiation of drug prices with Medicare providers.[14] Democrats know this time their priorities are going to need 51 votes, and that means working with Democratic moderates and progressives to legislate, similar to the process of the ACA. It is fair to note that Republicans did work to create and pass[15] a bipartisan infrastructure bill with a new group of moderates, including two Democrats[16] who are actively working to water down the more progressive, higher cost reconciliation bill.
One part of the reconciliation package, the Clean Energy Performance Program (CEPP) was designed to incentivize energy companies to transition to more renewable energy sources. Its popularity is undeniable[17]. However, Senator Joe Manchin, Democrat of West Virginia, the key 50th vote for Democrats in the reconciliation bill, went against this aspect of the reconciliation bill[18]. He effectively ended the CEPP's chances at passing. This demand from Manchin starts to illustrate a parallel struggle between the ACA and the reconciliation package, where a single senator in the party managed to effectively kill a popular piece of the President's agenda. 
Social issues also remain divisive inside the party's legislative process. Senator Joe Manchin remains the primary impasse to further spending on social issues like the child tax credit, tuition-free community college, universal Pre-K, and home-care services. He is also for making sure the Hyde Amendment, a budgetary amendment designed to prevent federal funds being used on abortions, remains in place for Medicaid-like expansions that Democrats planned to include, since many Republican states cut out Medicaid expansion for their constituents[19]. Many in the party want the Hyde Amendment removed because the budget bill including it no longer requires 60 votes[20]. Like with the ACA, abortion provides a focal point for the inconsistency between two ideological wings of the party.
There has been ample time since the ACA for Democrats, particularly President Biden, to learn the lessons of passing overhauling legislation with their majorities. Now more than ever, Biden is aware of the grassroots efforts that helped win him[21] his Senate majority in states like Georgia. Biden inspired this grassroots base with promises of progressive reforms like economic stimulus, climate change action, and voting rights. So far, Biden has steered in the direction of passing legislation with reconciliation, like the American Rescue Plan[22], avoiding negotiations with Republicans, unlike Obama. Biden has worked with further left members of the party, such as Senator Sanders who initially proposed a price tag of $6 trillion for the reconciliation package, but compromised at $3.5 trillion[23]. There's an understanding that economic policy won the party their Senate majority and that if they do not pass the policies they campaigned on, they're doomed for the midterms. 
Biden made it clear that he wants a reconciliation deal with a value in the trillions[24]. Leadership makes a difference, and when the final reconciliation bill is passed, the numbers won't lie. 48 out of 50 members in the party unified in their support of a topline 3.5 trillion dollar infrastructure package through reconciliation[25], and, with negotiations, they reduced the topline price to 1.75 trillion[26] in an effort to gain the final two moderate party members' votes. Overall, negotiations yielded a new reconciliation package that no longer includes prescription drug price negotiation, tuition-free community college, paid leave, and Medicare coverage for dental or vision. The modified plan does include measures to combat climate change via tax credits, child care cost controls, housing, and universal preschool. 
The willingness to punch left and ignore the grassroots, progressive base seems a lot higher in the Obama administration and Democratic leadership of the late 2000s than the current Democratic leadership. In 2009, Democrats started off with a legislative base further right than what they campaigned on, with the ACA originating from a Heritage foundation plan and Mitt Romney's proposals as governor in Massachusetts[27]. However with both the ACA and reconciliation package, there are clear examples of moderates managing to cut popular provision.
President Biden started talks off with faith in progressive policy, even if certain elements end up removed from the legislation. The party base, represented by the House Progressives, is clear about its need for a strong social spending bill alongside any bipartisan measure, as shown by progressives in the house blocking the bipartisan bill from moving forward until clear details were hashed out from reconciliation talks[28]. The Progressive caucus has been empowered in negotiations, holding against voting to ensure the bill remains impactful for their constituents. They've even publicly stood against Senator Manchin, who continues to prevent passage of the reconciliation bill.
All in all, the infrastructure bill gives a clear view into the pulse of the party, from moderate to progressive. It shows us how aspects of the party, like a willingness to cave to moderate Democrats, have yet to change, while Democrats continue to campaign and win on ideas that never see the light of day in Congress. It also shows us that large scale economic policy is possible in the shadow of the ACA. The real question becomes: will all these concessions translate into a win? Will voters grant Democrats another term of power? Or, will it end up like the ACA? Popular enough to pass, but not electorally meaningful.
---
Sources
1. 22, Barack Obamastated on December, Heritage Actionstated on October 19, Joe Bidenstated on September 27, Instagram postsstated on September 22, Ilhan Omarstated on March 23, Mike Pencestated on September 4, Antonio Sabato Jr.stated on July 19, et al. "Politifact - Public Option Was in Obama's Platform." @politifact, December 23, 2009. https://www.politifact.com/factchecks/2009/dec/23/barack-obama/public-option-obama-platform/.
2. 30, Barack Obamastated on March, Instagram postsstated on October 18, Dennis Pragerstated on November 8, Ron Klainstated on November 7, Lisa McClainstated on November 6, Joe Bidenstated on November 2, The Gateway Punditstated on October 30, et al. "Politifact - Obama Says Heritage Foundation Is Source of Health Exchange Idea." @politifact. Accessed November 17, 2021. https://www.politifact.com/factchecks/2010/apr/01/barack-obama/obama-says-heritage-foundation-source-health-excha/.
3. "Affordable Care Act (ACA) - Healthcare.gov Glossary." HealthCare.gov. Accessed November 17, 2021. https://www.healthcare.gov/glossary/affordable-care-act/.
4. Ball, Molly. Pelosi. New York: Picador, 2020.
5. "Bill Moyers Journal . Transcripts." PBS. Public Broadcasting Service, May 22, 2009. http://www.pbs.org/moyers/journal/05222009/transcript1.html.
6. CHRIS FRATES and CARRIE BUDOFF BROWN. "Gang of Six Could Hold Obama's Fate." POLITICO, September 9, 2009. https://www.politico.com/story/2009/09/gang-of-six-could-hold-obamas-fate-026879.
7. Duster, Chandelis. "Top Democrats Disagree on Including Hyde Amendment in Economic Bill." CNN. Cable News Network, October 3, 2021. https://www.cnn.com/2021/10/03/politics/hyde-amendment-economic-bill-cnntv/index.html.
8. Everett, Burgess, and Marianne LeVine. "The Power of 10: Inside the 'Unlikely Partnership' That Sealed an Infrastructure Win." POLITICO. POLITICO, August 11, 2021. https://www.politico.com/news/2021/08/10/senate-infrastructure-bipartisan-partnership-502722.
9. Fisher, Max. "Why Obama Dropped the Public Option." The Atlantic. Atlantic Media Company, October 26, 2013. https://www.theatlantic.com/politics/archive/2010/02/why-obama-dropped-the-public-option/346546/.
10. "Grassley Supported the Mandate before He ... - Youtube.com," March 25, 2010. https://www.youtube.com/watch?v=7TDfrsPEhmg.
11. "H.R.4872 - 111th Congress (2009-2010): Health Care and ..." Accessed November 17, 2021. https://www.congress.gov/bill/111th-congress/house-bill/4872.
12. Kanfer, Billie. "Voters Support the Clean Electricity Performance Program." Data For Progress. Data For Progress, September 30, 2021. https://www.dataforprogress.org/blog/2021/9/30/voters-support-the-clean-electricity-performance-program.
13. "Manchin Throws Cold Water on Passing Sweeping Climate Provisions - CNN Video." CNN. Cable News Network, September 12, 2021. https://www.cnn.com/videos/politics/2021/09/12/sotu-manchin-throws-cold-water.cnn.
14. Mascaro, Lisa, Aamer Madhani, and Alan Fram. "Biden to Head to Capitol to Push Agenda, Unite Democrats." ABC News. ABC News Network, October 28, 2021. https://abcnews.go.com/Business/wireStory/paid-family-leave-falls-biden-bill-tempers-rise-80827865.
15. McCormack, John. "Manchin: Reconciliation 'Dead on Arrival' If It Doesn't Include Hyde Amendment." National Review. National Review, September 30, 2021. https://www.nationalreview.com/corner/manchin-reconciliation-dead-on-arrival-if-it-doesnt-include-hyde-amendment/.
16. Melissa, Melissa. "Sanders Says Democrats Are 'Going to Come Together' on Reconciliation Bill." CBS News. CBS Interactive, September 19, 2021. https://www.cbsnews.com/news/bernie-sanders-democrats-3-5-trillion-reconciliation-bill-face-the-nation/.
17. "Memorandum to: Re - Democrats.senate.gov," August 9, 2009. https://www.democrats.senate.gov/imo/media/doc/MEMORANDUM%20for%20Democratic%20Senators%20-%20FY2022%20Budget%20Resolution.pdf.
18. Mosley, Tonya, and Allison Hagan. "How Black Grassroots Organizers in Georgia Changed Politics in a Longtime Republican Stronghold." How Black Grassroots Organizers In Georgia Changed Politics In A Longtime Republican Stronghold | Here & Now. WBUR, January 6, 2021. https://www.wbur.org/hereandnow/2021/01/06/grassroots-democrat-wins-georgia.
19. "New Poll Shows Americans Continue to Support Public Option in Final Health Bill." Speaker Nancy Pelosi, July 1, 2014. https://www.speaker.gov/newsroom/new-poll-shows-americans-continue-to-support-public-option-in-final-health-bill.
20. O'Keefe, Ed, Sara Cook, Zak Hudak, Kathryn Watson, and Melissa Quinn. "House Will Not Vote on Infrastructure Hours after Biden Unveils Revamped Social Spending Plan." CBS News. CBS Interactive, October 28, 2021. https://www.cbsnews.com/news/biden-spending-bill-build-back-better-social-climate-change/.
21. Person, and Jeff Mason. "Biden Says He'll 'Work like Hell' to Pass Infrastructure, Social Spending Bills." Reuters. Thomson Reuters, October 2, 2021. https://www.reuters.com/world/us/biden-says-he-hopes-republicans-will-not-be-irresponsible-refuse-raise-debt-2021-10-02/.
22. "President Obama: Address to Congress on Health ... - Youtube," September 10, 2009. https://www.youtube.com/watch?v=SSJugLUsM58.
23. "Roll Call Vote 117th Congress - 1st Session." U.S. Senate: U.S. Senate Roll Call Votes 117th Congress - 1st Session, January 16, 2020. https://www.senate.gov/legislative/LIS/roll_call_lists/roll_call_vote_cfm.cfm?congress=117&session=1&vote=00314.
24. Schor, Elana. "Democrats in Firm Control of Both Houses." The Guardian. Guardian News and Media, November 6, 2008. https://www.theguardian.com/world/2008/nov/06/us-elections-2008-democrats-congress-house-representatives.
25. "Senate Democrats Drop the Public Option to Woo Lieberman, and Liberals Howl." Commonwealth Fund, December 15, 2009. https://www.commonwealthfund.org/publications/newsletter-article/senate-democrats-drop-public-option-woo-lieberman-and-liberals-howl.
26. "Text - H.R.1319 - 117th Congress (2021-2022): American ..." Accessed November 17, 2021. https://www.congress.gov/bill/117th-congress/house-bill/1319/text%C2%A0.
27. "Title I—Committee on Agriculture ... - Rules.house.gov." Accessed November 17, 2021. https://rules.house.gov/sites/democrats.rules.house.gov/files/BILLS-117HR5376RH-RCP117-17.pdf.
28. "What Is a Public Option?" healthinsurance.org, September 2, 2021. https://www.healthinsurance.org/glossary/public-option/.